Speakers at Women in Language 2018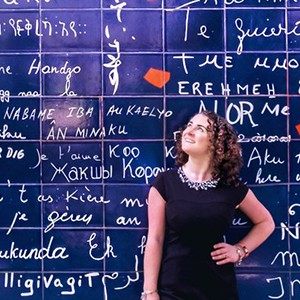 Michele Frolla | The Intrepid Guide
La Dolce Vita: How This Australian Moved to Italy
Have you ever wanted a complete sea-change or dreamed about what it would be like to live abroad? What's held you back? The language? Money? Job security? Moving abroad can seem like a daunting task and a huge leap of faith, but I'll show you how it might just be the best decision you'll ever make. How do you uproot your life and move to the other side of the world? With no job lined up and no friends to greet you on arrival, how do survive? After leaving Australia and living three life-changing years in Rome and living abroad for over seven, I'll be sharing my first-hand experience on what it's like to start again, twice. I'll show you how you'll learn more than just the local language. From the pros, the cons, the laughs, and lessons learned, this personal tale is peppered with hilarious cultural lessons. Armed with practical tips, you'll walk away inspired to create your own dolce vita abroad."
Bio: Michele from The Intrepid Guide is a travel and language blogger and author. Originally from Australia, Michele moved to Rome in pursuit of perfecting her Italian. Currently based in London, she lives by the motto "The more we travel, the more we learn." With her blog, Michele shares her passion for bringing language and travel together through with her destinations guides, language learning tools, travel phrase cheat sheets, and more! Follow her on social media as she shares fascinating and little-known linguistic and cultural facts.

Website | Facebook | Twitter | Instagram
---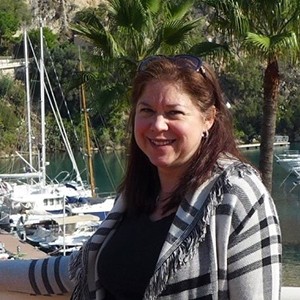 Therese LaFleche | LaFlecheLingo
Not Your Typical Classroom
The importance of multilingualism today cannot be avoided. We live in an ever shrinking world where a business to be truly successful must be on an international level, travel is easier and cheaper than ever and cultures are mixed everywhere you go. In order to truly succeed today, there is no doubt that you must have an understanding of cultures and languages. I will be showing you how to step into fluency during a vacation. This sounds so easy and a little too good to be true doesn't it?
I am going to talk to you about a method that is so much more than just language learning - this is the perfect way to absorb the language, get to know a culture and relax at the same time. A concept we don't often associate with learning. It is a fact that stronger and more lasting memories are likely to be formed when a person is relaxed and the memory-related neurons in the brain fire in sync with certain brain waves While scientists already know that relaxed minds are better at receiving new information, studies have also shown that a mechanism by which relaxation neurons work together to improve memory. My goal is to make learning a fun journey just as it was when we were kids.
Bio: Therese is a native Canadian, however with a love of travel and strong curiosity she has also live in the U.S., France and is currently living in Germany. She started teaching english to business executives and entrepreneurs in Germany and after an immersion class in France, saw how effective immersion learning could be. She married her love of travel with immersion classes and now offers language retreats in 6 languages around the world.
---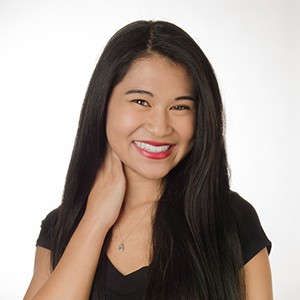 Cher Hale | The Iceberg Project
Are You Making The Most of Your Language Lessons?
You show up to your tutoring session and WHAM! Right away, you're hit with another complex grammar concept that you're sure you've already learned but can't remember. When it's over, you feel slightly accomplished but can't shake the nagging sensation that you're not making any real progress to becoming conversational. WHAT'S THE DEAL!? So many students show up for tutoring with the best of intentions but end up wasting time and money because they don't know how to make the most of their lessons. In fact, many of them sabotage their language learning by making a series of simple mistakes. In this talk, I'll tell you what those mistakes are and will give you my best tips to help you reach your ideal level more quickly, save money, and feel like the smartest language student around.
Bio: Cher Hale is best described as a relationship counselor between humans and the Italian language. Once they've fallen in love with the language and the honeymoon period ends, she helps them stay committed until they're conversational. You can read her vocabulary speed-dates, grammatical musings, and cultural cocktail party facts at The Iceberg Project.
Website | Facebook | Twitter | Instagram

---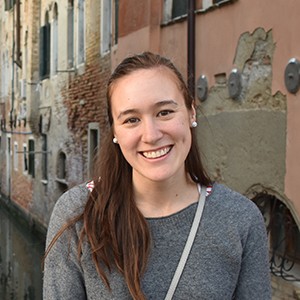 Rebecca Howie | Irregular Endings
Bringing other Languages into an English-focused Life
When almost everything that you see, hear and do is in English, learning and maintaining knowledge of another language can feel like the path of most resistance. However, we persist, because we know that there are huge benefits of bringing another language into our lives. Not just because it can be interesting, fun and great exercise for your brain, but also because it can help us to be better, more understanding people, with a wider view of the world. As someone who loves learning languages but otherwise lives in a completely English-focused life, one of the best ways that I've found to learn and remember what I know of another language is making my target language part of my 'normal'. I will be sharing with you some key principles that have helped me to bring another language into my everyday, as well as how we also try to help others do this through our small business, Irregular Endings. "
Bio: Rebecca is passionate about foreign languages and when she's not working her day job, she and her partner Chris run Irregular Endings - a small business creating paper goods and stationery for language lovers, language learners and those who have a personal connection to a language other than English. Rebecca speaks English and French, and is learning Italian and German. She is based in Melbourne, Australia but has also spent time studying or working in Canada, France and the UK.
Website | Facebook | Instagram

---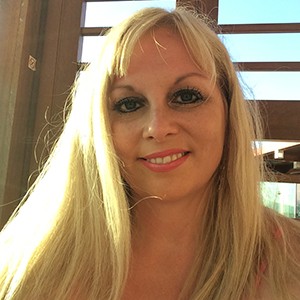 Maureen Millward | Language Learning Journey
Rising Above and Beyond: Overcoming the Language Learning Plateau
Learners often reach a plateau at the intermediate stage of language learning. As a beginner, progress can be quick and rewarding. There are usually plenty of resources for beginners and your new language challenge will feel very exciting. After several months, you may find that you can understand a lot of written and spoken language but not as much as you'd like. You feel your early progress has slowed down. This presentation will provide ideas and encouragement on how to overcome the plateau and cross the bridge to progression.
Bio: Maureen Millward is a Polyglot from Scotland. As well as English, her native language, she is fluent in Spanish, Italian and Portuguese and also speaks Catalan, Norwegian, French, Gaelic, German, Sicilian and Greek at various levels. She is currently learning Chinese, Slovak & Arabic. As well as languages, she has a passion for travel & photography which she talks about on her blog Mo's Language Learning Journey.
Website | Facebook | Twitter | Instagram

---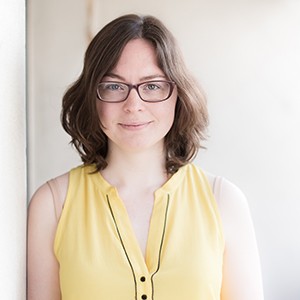 Cara Leopold | Leo Listening
Subtitle Freedom
All over the world, language learners are watching films in frustration, and are on the verge of throwing their laptops out of the window. Their problem? They want to watch entire films or their favourite series without subtitles. The irony? Just listening to films or TV without subtitles isn't enough. They feel bad about their language skills which are already excellent. The thing is, film and TV series dialogue is tough to understand. The key to subtitle freedom? Make the subtitles your friend. And perfection the enemy. I'm a listening skills specialist and film and TV series lover. In this golden age for TV, I'm on a mission to help language learners break free from subtitles, so they can fall back in love with their favourite films and TV shows.
Bio: Cara Leopold is British but has been living in the same obscure French city since 2007. She runs Leo Listening where she helps advanced English learning TV fans fall back in love with films and series by getting rid of the subtitle.
Website | Facebook | Twitter | Pinterest

---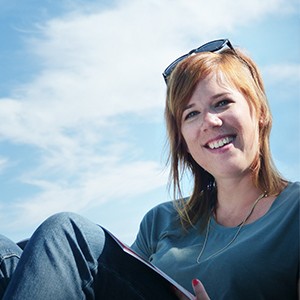 Dani Maizner | I Simply Love Languages
How to Kill It in Language Learning with Crime Fiction
Reading in a foreign a language is an effective and enjoyable way to maintain your language level without deliberate study time. But wait, I guess you didn't need a talk to tell you that, right? You prefer not to answer this question? Well, then let me ask some more... • What if a fun book in a foreign language could improve your skills and give you insights into the culture of your target language at the same time? • What if you could learn more about the society in a specific country? • What if you could get used to the spoken language while actually reading (and no, I'm talking about audio books!)? Suspicious? Let's interrogate the main suspect that I claim guilty to be my favorite book genre and responsible for the above-mentioned effects: crime fiction. If you take a closer look at this genre, you will be surprised how much useful information language enthusiasts can find in a good crime story. And do not worry, no blood or violence in this talk (to be honest, I prefer a quiet little cosy crime). Just a small investigation into how you can kill it in language learning with the help of a little murder.
Bio: Dani has turned her passion for languages into a freelance business that allows her to do her work from wherever she is. Originally from Austria, she recently moved the French Atlantic coast. She loves coffee, cosy crime novels and, of course, languages.
---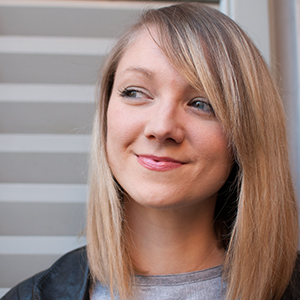 Katie Harris | Joy of Languages
The #1 Mistake Beginners Make When Learning a Language (and How to Fix It)
What's the best way to learn a language? There are loads of great ways that work. But there's one way that doesn't. It's the #1 mistake beginners make which stops them from speaking a language, even after they've been learning it for years. Katie Harris from Joy of Languages knows this because it was only after she stopped making this mistake that she managed to learn Italian, French and Spanish (+ some German and Mandarin)! In this talk, Katie will show you how to avoid making this mistake and give you better techniques that will help you: *Remember vocabulary and grammar more easily.
*Stick with the language for long enough to get great results.
*Sound more natural and confident when you speak."
Bio: Katie is a teacher, blogger and language nerd. She's been in love languages since discovering she could learn them by having fun with native speakers instead of memorizing word lists. Based in Milan, she shows people enjoyable ways to learn a language over at joyoflanguages.com.
Website | Facebook | Twitter | Instagram

---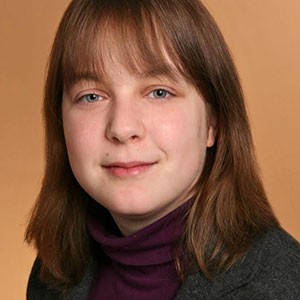 Judith Meyer | LearnYu
Fast Track Language Learning
Are you planning a trip abroad? Do you maybe soon start a job or university in a new language, or do you have in-laws with whom you want to be able to communicate? There is a time for "slow and steady" language learning and there is a time for Fast Track Language Learning. In this lecture I will talk about what you can do in order to make more progress than you ever thought possible in a short time - for when a deadline is looming. I myself have used these techniques in order to give a talk at an Indonesian speaking competition just six weeks after starting from zero, to have long conversations in Hebrew after three months, or to understand a Japanese anime series after just one month. My talk will cover goal-setting, materials and everyday study of such short-term language learning missions.
Bio: Judith Meyer is a Berlin-based polyglot and language course developer with a particular interest in non-European languages.
---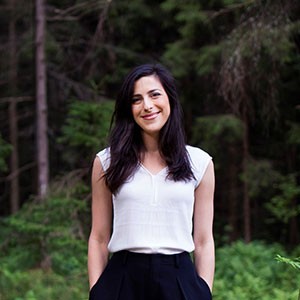 Irina Pravet | IrinaPravet.com
The Power of Compassion & Intuition in Language Learning Abroad
A talk for learners of all levels who live abroad and for whom the incentive to continually improve your language skills is high. Language learning is a common part of life abroad, but it's easy to forget when discussions revolve around motivation, time, methods... In this talk, what we'll do instead is question some of the common assumptions in mainstream language learning, which also cause us the biggest challenges and misery. I'll then introduce you to two powerful ingredients: compassion and intuition. You'll learn why when these two unassuming ingredients have the ability to completely shift your learning strategy and your results. Simply tapping into the power of compassion and intuition can mean the difference between frustration and plateauing, to having fun, building confidence and seeing swift progress in the language. I'll also share my experience learning Finnish in Finland: exasperated by yoyo-ing motivation and my own lack of discipline, and how this transformed with compassion and intuition. I'm excited to combine research on compassion and intuition with years spent living and learning abroad. My goal is to create a life I love abroad, and I hope to light the spark for you to do the same!
Bio: Irina Pravet was born in Romania, grew up in Canada and moved to Finland in 2010. From a young age, Irina had to learn languages to adapt to the big transitions going on in life (from Romanian to French to English). And she gradually became fascinated by each language's ability to help her shape her identity and reveal new (sometimes contradictory) perspectives about the world. Based on her experience abroad since 1993, she brings together experiences to empower foreigners to create lives they love abroad, whether the current challenges are related to language, culture or to a greater personal transition.
---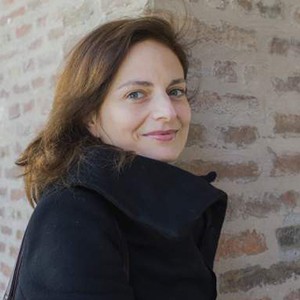 Elfin Waters | All About Italian
Find Time in a Busy Life: Learn with Instagram
If you feel bogged down by your to-do list and your days are too busy for learning a language, your secret weapon could be Instagram! Maybe it's too soon for you to read a book or watch an actual movie. And maybe Youtube videos are too much as well. Instagram's bite-sized content is what you need because it gives you enough to work on without overwhelming you. The only problem is that you have to know where to look and WHAT to look for. In this presentation, I'll show you how to maximise this social network. You'll soon discover native content that will challenge and inspire you - right in the app! I'm an Instagram Italian teacher and I've found a way to keep my language learning resources right within reach. Join me in this talk to discover how I created tiny practical exercises that help me get a little practice in even on hectic days when I know I won't be able to hit my books.
Bio: Elfin was born in the US but grew up in Italy and learned Italian as a kid. She loves languages and thinks that the process should be just as enjoyable and remarkable as the final goal, that of becoming fluent. She speaks English, French, Italian and Spanish. She teaches languages online and her goal is to help English speakers find fun ways to learn Italian even on the busiest of days so that they can get closer to their dreams and be happy. She posts goofy videos about Italian idioms on Instagram and is on a quest for the perfect cappuccino.

---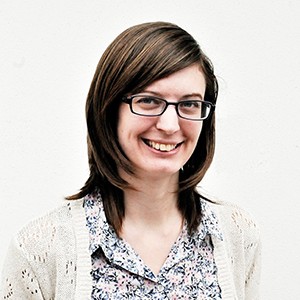 Elisabeth Jackson | More Vietnamese
Why You're Struggling with Listening and What to Do about It
Do you find yourself getting frustrated when listening in your target language? Do you understand your textbook audio or your tutor, but not native speakers in conversation? Maybe you even struggle with textbook audio... As a language teacher, I noticed learners with similar levels of English didn't necessarily have similar listening ability. When I've taken language classes as a language learner, I've also noticed this in my classmates. I'm not going to lie, I've not had to work too hard on my listening… until I started learning Spanish. Since noticing this difference in ability a few years ago, I've been investigating how we listen and coaching learners on how to improve their listening. I'm now in the same boat myself and have been enjoying re-evaluating what I've read and taught, from a learner's point of view (geeky, I know). Join me for this session to look at common listening problems, including how listening and pronunciation are closely linked, and find out ways of improving your listening ability."
Bio: Elisabeth is an English Language (EFL) Teacher from the UK. She has lived and taught in Vietnam and Bulgaria, learning the local language both times. She's dabbled in other languages (namely Korean and Esperanto) and is currently learning Spanish. Vietnamese remains her best language and she blogs about it at More Vietnamese. As a teacher in a language centre Elisabeth also regularly delivers teacher training workshops. She blogs about teaching at: MoreTeaMoreTeaching.com
Website | Facebook | Twitter | Alt Website

---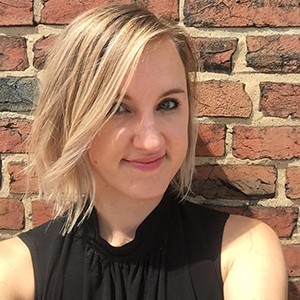 Nikki Prša | Speak at Home Tonight
How to Get Any Job by Selling Your Language Skills
Being multilingual in 2018 is the most valuable skill you can have. Language and culture skills are vital in order for companies and brands to reach a global audience in an authentic way. This talk will teach you how to use your languages and understanding of multiple cultures to get your dream job in any industry. Nikki Prša has leveraged her language skills into an international career spanning the translation, education, and entertainment industries in the U.S., Germany, Poland, Egypt, Croatia, and Slovenia.
Bio: Language expert, Nikki Prša, transforms students all over the world into confident language speakers with her infectious energy and immersive approach. The Polish-American polyglot behind Speak at Home Tonight has perfected the best methods for language learning, mastering an accent, and adapting to a new culture. With a Master's Degree in Secondary Foreign Language Education and Bachelor's Degrees in German and Arabic, Nikki teaches you how to get fluent fast and master a foreign language at home, tonight.
Website | Facebook | Twitter | Instagram | YouTube | Pinterest

---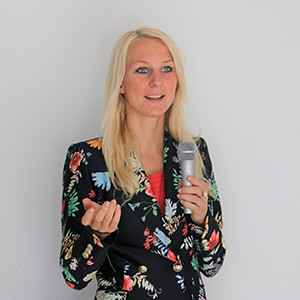 Anja Spilker | ZALOA Languages
Can You Love Me Again?
Dear language that I have studied once, ♪ ♫ I know I've done wrong, (...) Took you so low, where only fools go! IIIIII need to know now, know now: Can you love me again? ♪ ♫ Have you ever broken up with a language you have once studied? Do you maybe still remember some words but can't really speak the language? Very few people who have learned Spanish, German, French or any other language in school are able to speak those languages years later. This is because just as it says in John Newsman's song: they've done something wrong! During this talk you will find out WHY you have not been able to keep up the relationship with the foreign language. And more importantly: I will show you HOW to rebuild the relationship with that language and HOW to make up for mistakes that you or your teachers have made before! You could have so much fun with the language! You could learn how to flirt in Spanish with a hot Latin guy! You could learn how to make a German laugh! You could learn how to be successful in another country! Wouldn't it be nice to fall in love again?
Bio: Born and raised in Germany, Anja from Alemania left her home country 9 years ago to work, live and study in various countries. She is the founder and CEO of ZALOA Languages, an online language school that works with native speakers from all over the world who teach languages online in a virtual classroom. In 2014, she moved to Mexico where she founded ZALOA Languages Cholula for offline classes in Mexico. Since 2016, she works as a language coach and conference speaker and launched her social media blog "Anja from Alemania" that has the aim to motivate non-Polyglots to start or continue learning foreign languages.
Website | Facebook | Instagram

---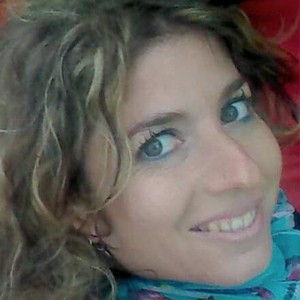 Elisa Polese | Speak from Day One with Elisa
Learning and Teaching Two to Ten Languages in One Course
Have you ever learned a language, let´s say Spanish, and years later started learning Italian again from scratch? Learning and Teaching languages simultaneously is not only possible but it is an increasingly demanded skill. Nowadays you can be competitive if you know at least three languages - and the more the better! Do you want to find out how to learn them without spending several years of your life for each language? Or are you a teacher who would like to know how this teaching method works? In this talk you are going to learn how to teach and study between two and ten languages simultaneously in one course. How can you separate the languages? Can anyone do it? How long does it take? With what language combinations does it work? What method could you follow to learn or teach so many languages? Intrigued? Come along to discover this fascinating method.
Bio: Elisa Polese is a professional language teacher. She teaches Italian, German, English, Spanish, Russian, French, Dutch, Catalan, Portuguese, Greek, Hindi, Arabic and Esperanto (at different levels). She is specialized in multilingual teaching (up to 10 languages in one course) and is a certified language examiner for English, Italian, Russian, French, German and Spanish. She has lived and taught in several countries (UK, Russia, Germany, Spain, France, Italy, Switzerland) and holds an MA in International Communication from the University of Modena and Reggio Emilia (Italy), an MA in Didactics from the University of Siena and Perugia (Italy), BAs in Translating and Interpreting from the University of Bologna (Italy) and the University of Grenoble (France), as well as the CELTA (Certification in English Language Teaching to Adults) from the University of Cambridge. Elisa has taught at language schools, universities, international schools and online. She gives presentations and lectures about language learning, multilingual teaching and learning and intercultural communication, and also conducts language workshops that enable students to start speaking one or more languages from the very first moment. Her innovative and unique approach allows students to have their first conversations in the target language or languages after only a few minutes. She is also a language coach and can help learners to make rapid progress. In addition to her teaching, speaking, and coaching activities, Elisa has also written language learning material and books.
---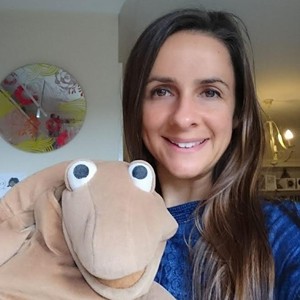 Heidi Rivolta | Bonjour Tonton
Positive Language Learning for Kids and Their Adults
What if, as a parent or a teacher, you could teach your kids a second language, in a way that was fun, effortless and fast? What if you could give your kids the confidence to develop a truly solid foundation in a second language, nurturing a genuine love of language learning? Heidi can show you how all of the above is possible with very little effort and without needing to spend lots of money on expensive resources. Heidi has been teaching French to children aged 2 and up alongside her naugty tortoise puppet Tonton since 2009. She will be sharing the secrets of her highly effective and fun teaching style, giving you practical tips that you can use at home or in the classroom to teach meaningful conversation that goes beyond just learning numbers and colours. There are so many simple ways to learn simply through play. There are no text books needed! If you are looking for ways to motivate the children in your life to learn a new language but feel daunted by what seems like a momentous task, Heidi has lots of exciting ideas to make learning easy, effective and fun for you and the kids!
Bio: Since 2009 Heidi has been teaching French to preschool and primary school children through her own brand of interactive classes featuring her naughty puppet tortoise Tonton la Tortue. Children learn through repetition, songs and games just in the same way as they learn their native tongue. Within a couple of weeks of learning with Heidi through 45-minute sessions each week, children are able to respond to a handful of basic questions in French and offer their own responses, too. In 2017, she self-published her first French learning picture book under the name Bonjour Tonton. Her goal is to make language learning something all families with small children aim to try and to make the learning process as fun and positive as possible.

---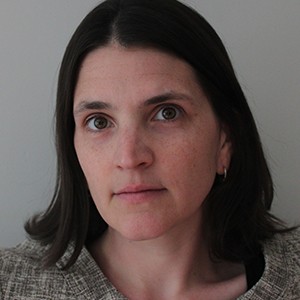 Sarah Brown-Schmidt | Associate Professor at Vanderbilt University
Memory for Languages
Conversational partners form memories for what they have talked about in the past, and how they talked – including memory for past referents and referential form. These memories shape the way language is used in the future. Less well understood are the degree to which these memories are accurate and whether conversational partners develop memories that are similar to one other. My research examines the way language is used in conversation. Focusing on the study of referential form in conversation, combined with explicit measures of recognition memory for past referents, I show that conversational partners are likely to walk away from a conversation with distinct memories for the contents, and in some cases the context of conversation. In general, speakers tend to remember what was said better than listeners do. Studies of conversational language use in persons with anterograde amnesia offer insights into the biological memory systems involved. The findings have implications for how common ground is formed in conversation, and suggest that there are limits on the degree to which interlocutors can achieve coordinated representations of the discourse history. More generally, this work demonstrates that the successful exchange of meaning in conversation involves imperfect, asymmetric representations of the jointly experienced past.
Bio: Sarah Brown-Schmidt is Associate Professor of Psychology and Human Development at Vanderbilt University in Nashville, Tennessee. Her research focuses on language use in conversation, and is supported by the National Science Foundation and the National Institutes of Health. Of particular interest are questions related to memory for conversation (What is remembered? How does memory support conversation?) and perspective-taking (When and how do we appreciate another person's perspective?).
---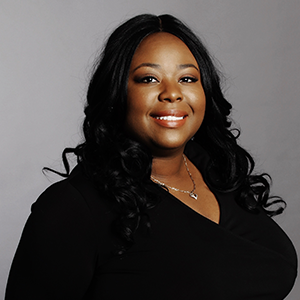 Shahidah Foster | Black Girls Learn Languages
Why Immersion Is Key and How To "Immerse" Yourself
How do babies learn their first language? They are immersed in language from birth. Immersion is the preferred way that most learn a language because you naturally acquire the language as opposed to being taught formally. But what happens when you can't afford an immersion class or to live in a country for long periods of time? What if you live in the country but for academic or business reasons, still rely heavily on your native language? Whatever the situation and no matter where you are, you can still get the same language benefits by "creating" an immersion situation for yourself. In my talk, I'll show you immersion simulation techniques that helped me learn German and improve Spanish.
Bio: Shahidah Foster is a language enthusiast from Brooklyn, NY. She has studied language off and on for decades, taking up traditional studies in French and Spanish and self-studying German. As the founder of blackgirlslearnlanguages.co, she has built a community of black linguists and provided content and resources for black language learners and enthusiasts. She is currently had varying degrees of fluency in German, French and Spanish, and is currently learning Dutch and Italian.
---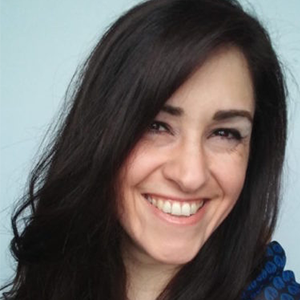 María Ortega Garcia | Compass Spanish
Cracking the Language Code Through Art and Self-Expression
Art and self-expression are two sides of the same coin. The coin of an individual and collective mindset that defines an specific culture. A language is shaped by its culture, so learning a language through any manifestation of art - literature, painting, theatre, music -is a way of not only understanding the target language form through the related vocabulary, but also of understanding the mindset of the culture behind the artist. The mindset being a key element of interiorizing and assimilating words, structures and patterns of the target language. The second key element is self - expression and creativity as a means to explore yourself and how the target language merges with your own mindset and patterns. Any form of creativity in the target language is the ultimate way of making that language yours. In this presentation, I'll show you to how art can enhance the mindset behind a language, and how you can use creativity to understand your own mindset. It's more than just language learning - this is the perfect way to absorb the language and expand yourself.
Bio: María is Spanish language and culture promoter. She has been running her own online education business since 2011, offering online lessons as well as retreats and immersion courses in Spain. She is the creator of the line "Compass Spanish" where she offers online Spanish courses, support and guidance to students of Spanish.
Website | Facebook | Youtube | Instagram

---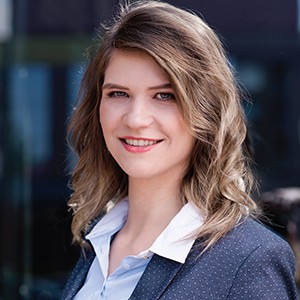 Lýdia Machová | Language Mentoring
The Goldlist Method: Learn Vocabulary Without Without Memorizing
What would it be like to learn vocabulary in any language, on any level, in such a way that you don't consciously try to learn anything? You just write down lists of words and rewrite them every two weeks or so. And as if by a miracle, 30% of those words will stay in your long-term memory every time you rewrite the list! Sounds like a dream? This is exactly how the Goldlist method by David James works. In this talk, you'll get a hands-on explanation of a simple, yet very effective method which you can start using today, totally for free. If flashcards, rote memorization, pictures and any other methods haven't quite worked for you, this is your new chance at learning languages in a fun, relaxed and very efficient way.
Bio: Lýdia is a polyglot and interpreter from Slovakia who has developed her own way of teaching languages without actually teaching them: it's called Language Mentoring and as a language mentor, she helps her students develop their own unique method for learning any language by themselves. Lýdia is also the main organizer of one of the biggest world events for polyglots called Polyglot Gathering. She learns a new language every two years, currently working on her ninth one, Swahili.
---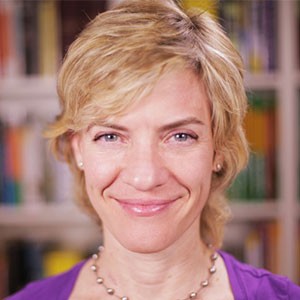 Ellen Jovin | Worlds & Words of New York
Language Self-Study: Secrets of the Successful Autodidact
Most people do not like studying languages on their own; they would rather have a teacher and a class. Teachers and classes can be great, but if you stop going to class, as many people do, the classes end up being way less effective! Ellen has studied 20+ languages on her own and tested hundreds of language-learning products. As an alternative or supplement to teachers and tutors, Ellen will talk about how you can study languages independently, developing qualities of intellectual self-reliance that will help you not only in language-learning but also in any area where you would like to increase your knowledge and skill.
Bio: Ellen Jovin is a professional word nerd. When she is not teaching writing, email etiquette and grammar through her company, Syntaxis, she wanders around New York City studying languages and conjugating stray verbs.
Website | Facebook | Twitter | Instagram | LinkedIn
---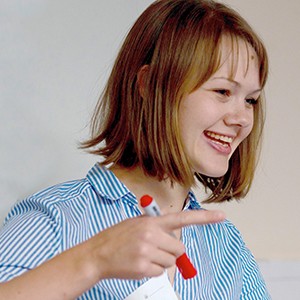 Fran Wrigley | Step Up Japanese
Classroom Learning Is Not Dead - How to Build a Community in Your Language School
Online teaching is more popular than ever. So why bother learning a foreign language in a classroom? Many people are put off languages by early experiences of bad classroom teaching. But I believe if you get it right, a classroom can be the perfect place for learners to pick up a language. In our fast-paced world, having a dedicated time and space to learn languages is more important than ever. When I started my school Step Up Japanese in Brighton in 2014, I thought I was just opening a little language classroom. It took me a while to make the amazing discovery that what I had really built was a community. Brought together by weekly classes, my students support each other, learn from each other's mistakes, and eat a lot of Japanese sweets. So how can language school owners "get it right"? What are the advantages of offline classrooms over online teaching? Join me, and learn how to build a community in a classroom.
Bio: Fran is a Japanese teacher and kanji obsessive. Fran worked in teaching and translation in Japan before returning to sunny Brighton in 2014, where she set up her school Step Up Japanese. Her mission is to show the world that the Japanese language is as logical and simple as it is beautiful ... and to eat huge quantities of edamame beans along the way.
Website | Facebook | Twitter | Instagram

---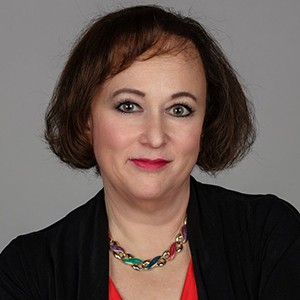 Madeline Vadkerty | Interpreter

Making the World a Better Place As an Interpreter
If you are fluent in another language and are weighing your career options, or perhaps looking to make a career change, listen to this talk by Madeline Vadkerty about community interpreting. Madeline worked at Advocates for Survivors of Torture and Trauma in Washington, DC where she interpreted in French, Spanish and Russian. This organization helped asylum seekers from more than 80 countries living in the US by offering badly needed psychological care and social services. Interpreting for dissidents from all over the world is part of what makes a career in this field so rewarding, but most uplifting of all was being part of a team that helps people heal and seeing people get back up on their feet after surviving torture. Being part of that healing process is nothing short of inspirational. Community Interpreting is a relatively new field, and in the US, it is expected to grow by 24% by 2024. During this talk, we will look at the state of the field itself and how bilingual individuals can make a difference by becoming trained community interpreters. Madeline has plenty of stories to share that exemplify the challenges and rewards of this important work.
Bio: Madeline Vadkerty is an American who is currently living in Bratislava where she is currently researching a book on the Holocaust in Slovakia. She has used her foreign language skills in the nonprofit, US Government and private sectors. She worked as Business Manager for Cross Cultural Communications, a community interpreter training company, as a community interpreter in French, Spanish and Russian for asylum seekers at Advocates for Survivors of Torture and Trauma in Washington, DC and at the US Holocaust Memorial Museum where she conducted historical research in numerous languages. She is also the former owner of a private company that provided business services in Slovakia. Madeline's mission is to enhance the understanding that using foreign language skills can make our world a better place.
---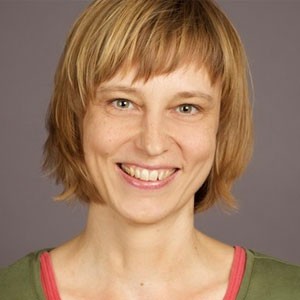 Bettina Röhricht | Translator
Upsides and Downsides of Being a Freelance Translator
Most people have a vague idea of what an interpreter's work is like, or are familiar with situations involving interpreters, but few people get to see a translator at work. If you've ever wondered what it's like to be a freelance translator, here's your chance to find out. Drawing on 18 years of experience in this very demanding and underappreciated business, I'll be telling you about the daily routine of freelance translation and some of the facets of a translator's work when dealing with tricky texts, linguistic pitfalls, high-maintenance clients, business-related issues, self-discipline (or lack thereof) and know-it-all non-translators, but also about rewarding moments and exciting projects. At the end of my talk there'll be time for you to ask me lots of questions, and I'll do my best to answer them.
Bio: A UK-based native of North Germany, Bettina Roehricht has been working as a freelance translator for 18 years, specialising in the translation of journalistic and scientific texts on politics, education and the environment from English and Portuguese into German. She also provides coaching for other freelance translators, helping them build their business, optimise their client base, maximise their income potential or simply improve their work-life balance.
---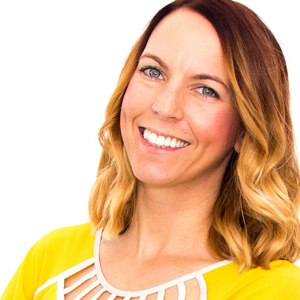 Jennifer Nascimento |
Language Learning & Teaching as a Mom: How to Find the Time
Finding the time to get most things done with a busy schedule is challenging; however, moving into the stage of motherhood makes a lot of things seem impossible when it comes to time. Teaching (running a business) and/or learning another language is possible even when you have multiple other schedules (& people!) to think about. Get tips for multi-tasking, scheduling and being more productive in this talk.
Bio: Jennifer has been learning languages since the early 2000's and teaching English for over 10 years. She runs English Outside the Box, co-hosts the podcast, English Across the Pond, and recently became a new mom so managing time as become a necessity in her life.
---
Round Table Panelists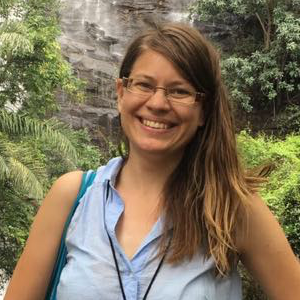 Charlotte Scherping Larsson
Charlotte Scherping Larsson has a B.A. in Psychology from Sweden and is currently studying her Masters in Education in Germany. Intercultural themes and language learning are an integral part of her life - be it German, English, Esperanto, Swedish or Russian. She worked in tech support for a French firm in Germany and has lectured about learning languages at various events.